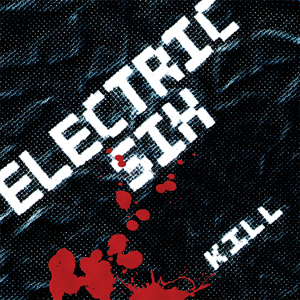 Electric Six's sixth album, Kill, might not be as immediately catchy as the bulk of its predecessors, but it is just as bombastically ridiculous as anything else to come from the Detroit disco-rockers. As is an Electric Six standard, the songs convey tales of sleazy machismo and nonsensical relationships, all delivered with such conviction that you don't even think about questioning lyrics as ludicrous as "Karma is a big mean animal, looking for its next meal in your bedroom while I'm on top of you / Demonstrating the latest positions". Dick Valentine's vocals are as suave as ever; his passionate lows are nicely juxtaposed with the occasional falsetto highs, providing the perfect voice for the outlandish music.
One of the biggest differences with Kill in comparison to a lot of the band's other material is the music's actual construction. On the one hand, there is a stronger portrayal of the band's electronic side - for example, 'Rubbing Me the Wrong Way' depends on a fuzzy square lead and sprinkled synthesisers to keep the track moving. At the same time however, there is also a surprisingly large presence of lead guitar, with almost all tracks brilliantly supplemented with far more well-placed noodling than ever before. Whilst it takes some getting used to, it seems that musically Electric Six have really pulled all the stops out, somehow managing to make their instrumentation almost as over the top as the lyrics.
Unquestionably, Kill is a strong album through and through, proving itself yet another entry to the deceivingly high-quality output of Electric Six. Its only fault is requiring repeated listens in order to truly 'get it', with cuts such as the oddly-heartfelt ballad 'Steal Your Bones' not immediately displaying their genius on the first play through. Whilst perhaps not quite as all encompassing as predecessor Flashy, Kill has plenty of variety and is bound to please fans of the Six's other materials.