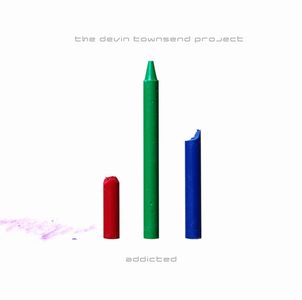 The second in four albums to be released from the Devin Townsend Project, Addicted is a radical departure from the clean, haunting tones of its predecessor Ki. Instead we have an album's worth of densely recorded guitars, synthesisers, computer-generated effects and unrestrained vocal bombast.
Addicted is a highly versatile record throughout, drifting from heavy metal numbers such as the title track, to the hilariously pop chorus of 'Bend It Like Bender' and to the lovely clean melody of 'In-Ah'. One thing that stands out through the album is the brilliant vocal performances from Townsend and guest singer Annekke van Giersbergen. Their two voices complement each other greatly and it is an utter delight hearing Anneke's version of 'Hyperdrive' (originally on Devin's Ziltoid The Omniscient album).
Addicted's song-writing is arguably rather simple by Townsend standards. Still present are the wall-of-sound multitracked instruments, computer-based industrial tinkerings and versatile voices but there are very few elaborate musical deviations, Addicted! playing down Devin's progressive tendencies. The songs are generally quite short and to the point, with the mission statement clearly being to deliver something catchy and enjoyable without being bogged down in the borderline self-indulgent. There is an almost Wildhearts-esque vibe to the album's construction, with some songs going as far as to quite obviously reference the influence (for instance, 'Resolve!' is clearly partially based on The Wildhearts' 'Vanilla Radio' as alluded to in the album's liner notes).
Devin Townsend's albums have often been touted by the man himself as an expression of where he is emotionally at that point in time – his state of mind in essence defining the tone of the album. If that is to be believed, then this is probably the first time we've heard Devin Townsend consistently happy and enjoying himself in every capacity. And it's absolutely brilliant.